Little Big Daypacks Big comfort for little loads and more. We're not sure 'daypack' is the right term for these since they will out carry just about any UL Backpack. McHale Packs are known for doing the job they were designed to do......and a bit more.......These are more like 34.5" in circumference and have their backpadding internalized, like Bumps and Merkes, and unlike the external padding on an LBP 35 roll top. The internal padding lessens the overall volume as well by 1" circumference. $695.00 includes 2 water bottle pockets, a Full Spectra bottom and side reinforcing, and choice of fabrics, 7000 series alloy aluminum frame..... Water pockets can be traded for bladder system: bladder holder and tube slot. Tube slots are standard. Scroll for all photos.
LBDs are no longer available in Full Dyneema. The replacement fabric is Full Spectra.
Differences between LBPs and LBDs are panel loading access, shorter height hip-belt for the LBD with single buckle or double 1" buckles, internal removable back padding rather than external velcro-on padding, thinner 1/2" padding throughout rather than 5/8", lighter frame stays (still 7075-T6), and does not have Q-Bayo. We do make a heavier duty LBD; the LBP/LBD! Enjoy the pics below.
Below: and extra tall LBD made of Gray Dyneema Grid. The LBD below looks tall because it was made for a long torso. The stays in this pack are 24.5" and the bag is 26" long. The fabric is 140 dyneema grid with 420 reinforcing. Weight with one water pocket is 2 lb. 15 oz. Volume is about 1900 cuin.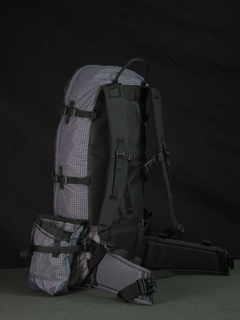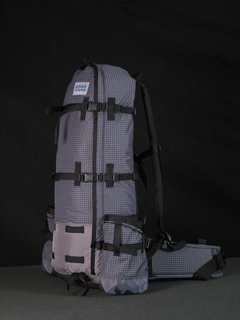 Scroll down for more LBD packs
Below: A more medium sized LBD. Weight; 2lbs 15 oz. stripped of all accessory pockets and water pockets. Keep in mind, panel loaders are one big quick access pocket. Weight as shown with all pouches, including concept shoulder pad pouch is 3 lbs., 10 oz.......made as a lightweight UL overnight pack they are lighter.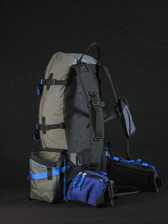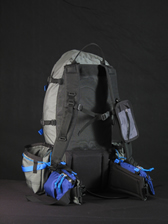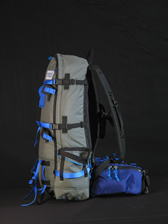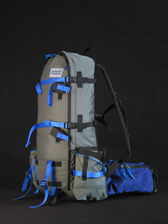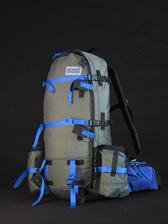 Below: A shorter LBD with 21" stays made of gray 500D Cordura. Large Crest belt pouch on left. Weight complete as is with 2 water pockets and large unpadded Crest belt pouch; 3 lb. 5 oz. Volume is about 1700 cuin. Weight even with 500D cordura is under 3 lbs without accessory pockets.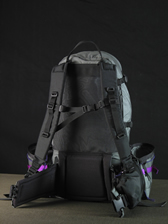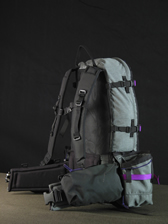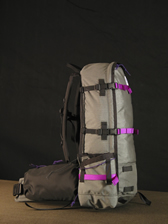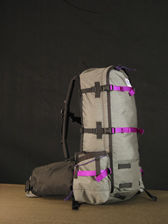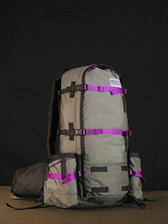 Below: A Dyed 100% Full Dyneema LBD and a Teal 1000D LBP at the end - click images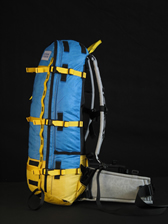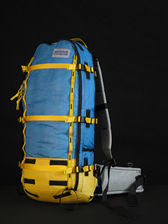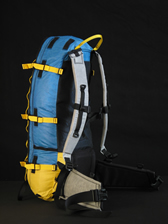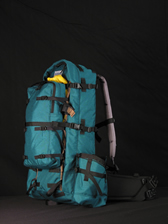 Below: Same pack, different color and a bungy cord zipper flap that can be snugged down to protect the zipper in harsh environments.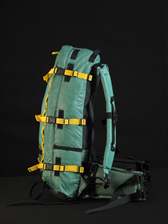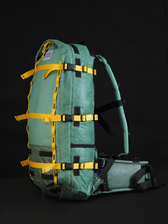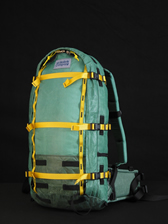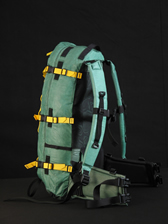 Below: Navy Full Dyneema with 500 cordura w/dyneema grid accessories